Increasing BiPAP and ventilator performance
AG Industries offers a variety of affordable BiPAP filters including foam, bacteria, and our patented Ultagen™ fine disposable filters. Our ventilator filters include foam, fine particle combi, and electrostatic inlet filters.
Maintaining filter replacement schedules on BiPAP (bilevel positive airway pressure) and ventilator machines is particularly important since they work harder than CPAPs, particularly ventilators, which may be in use 24/7. In addition to capturing contaminants and helping to maintain a high flow rate, regular filter changes can also reduce machine noise.
BiPAP Filters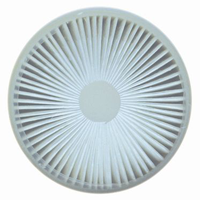 Ventilator Filters